Marcus Bisson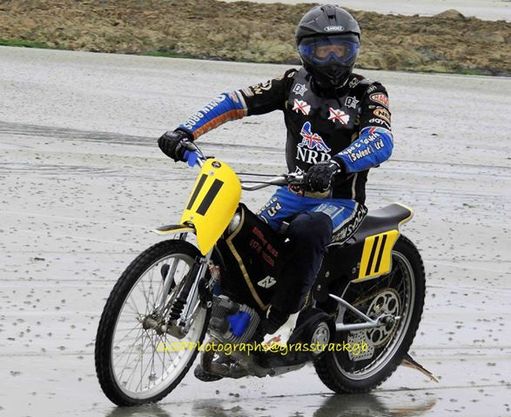 Marcus, a Jersey born rider, has enjoyed an illustrious racing career both in the Channel Islands and as a professional speedway rider for Weymouth and Poole. He has also competed at the highest level on the UK grasstrack scene as well as European Longtrack events. In 2013 he narrowly missed out on a semi final position due to an engine failure in his first visit to the Marianske Lazne Czech Longtrack meeting in May, finishing an equal 10th place. A former two times British Sand Champion, and in 1983 British Best Pairs grasstrack champion, Marcus decided to return to track racing in 2012 after a lengthy lay off.
In 2012 Marcus was runner up to Danny Warwick at the Condor Ferries British Sand Ace Final in Guernsey, beating the hard charging Mitch Godden into third place. This was only the fourth meeting that Marcus had ridden in since his retirement some 20 years ago.


NRP are proud to sponsor Marcus and wish him all the best for the remainder of the 2013 season, and many more seasons to come.

---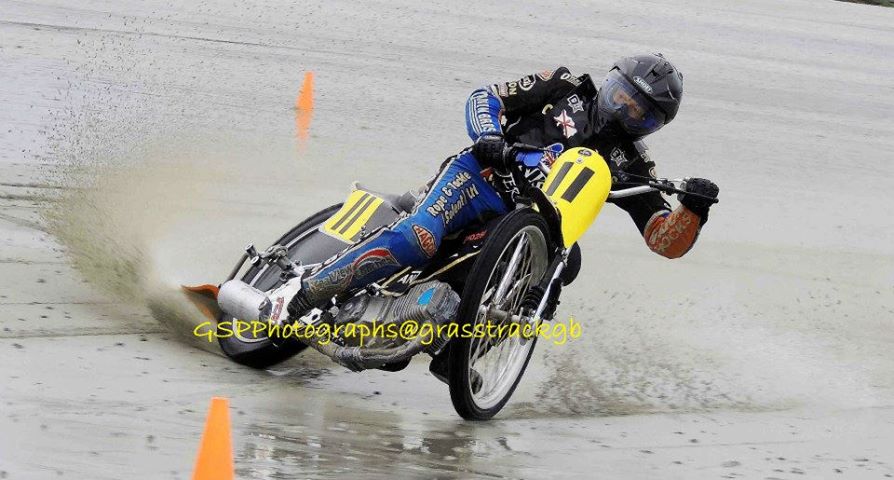 Kevin Bishop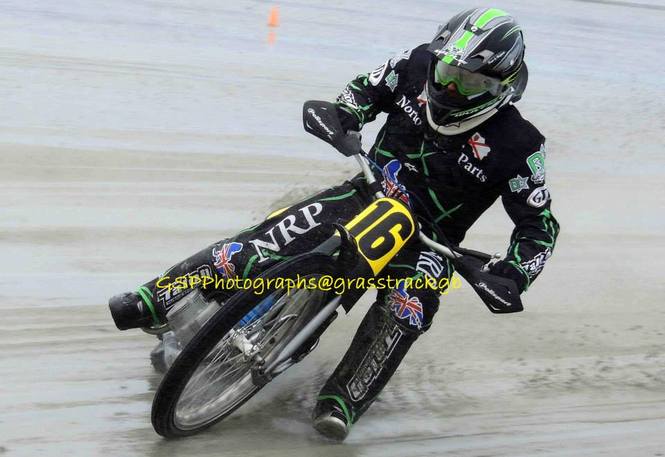 2013 Condor Ferries British Sand Ace Final, enjoying my best finish of a top twelve position.


Looking forward to the Channel Island Champion meeting in Jersey on the 20th of July at the super smooth West Park Beach.
---
Yours truly at St. Ouen Jersey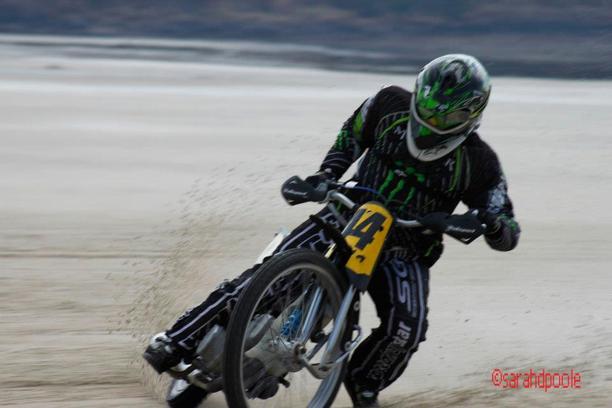 Picture courtesy of Sarah Poole.


2013 St. Ouen Bay Jersey
---
Jamie Griffiths, ( ma boy) Joe Bishop, and me Guernsey.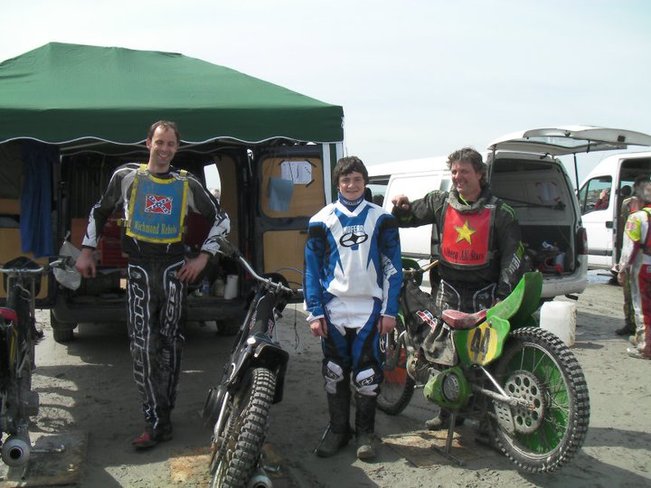 2008 Vazon Bay Guernsey
---
Customers Gallery
Elmar Hammerer - Austria -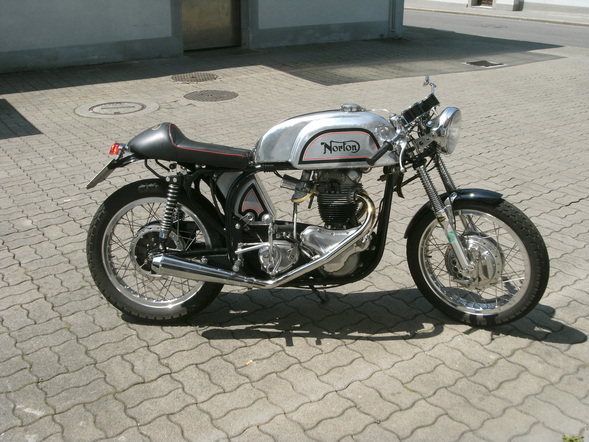 Elmar built this beautiful Slimline 750 Atlas and used one of our NRP 1001P oil tanks and fitting kits, along with genuine Norton factory parts supplied from us.


We are delighted that Elmar has placed another order with us for a petrol tank.
---
An aerial shot of the oil tank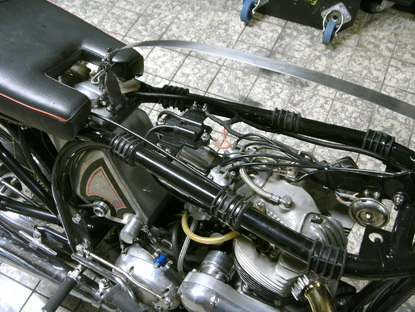 Hi Kevin,

got the tank!
And i´m realy surprised, it´s perfect!! Especially the over complete set to fix the tank to the frame, absolutley first class. Thank you!

Best regards, Elmar


---
Luca Bettini - Netherlands -
Luca built this stunning Commando, and used our CNA 6 P gas tank and a NRP 450 CUP seat unit along with the fitting kits and genuine Norton Factory parts to complete the build. We have the privilege of another order from Luca for a single seat and a 3 gallon gas tank for a Commando which we will be adding to our range in the future.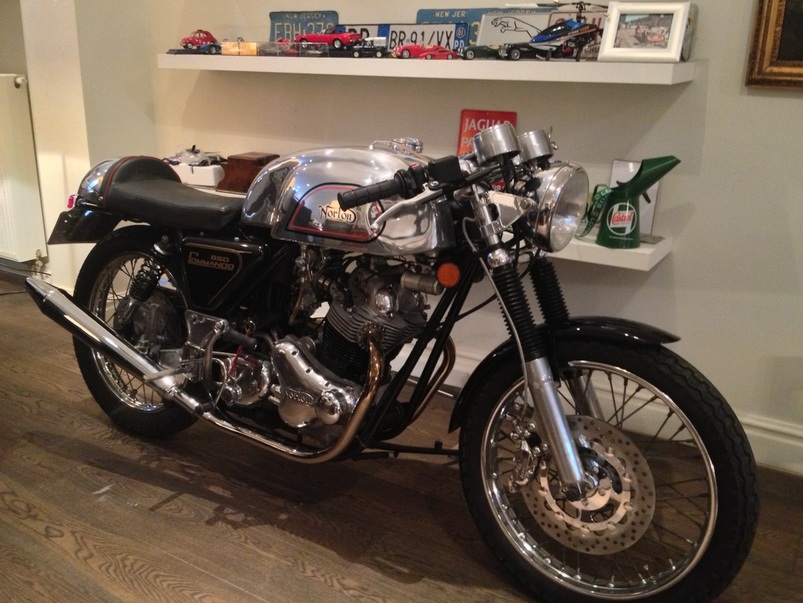 Dear Kevin,

I wanted to let you know that I have received The tank, seat, mounting hardware and decals. They all look great! Many thanks for the fantastic work.

Best regards,

Luca


Northumberland England -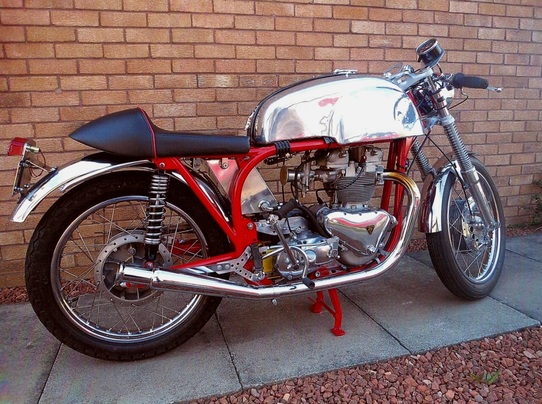 Mr. Cooper built this striking Wideline T110 and used one of our WNA 5 P Petrol tanks and NRP 316 ST tank strap assemblies.


Mr Cooper is one of our more mature customers and did all his correspondence by phone and post. This is a photo he sent to us through the post.
---
Andrew Jarrett - Australia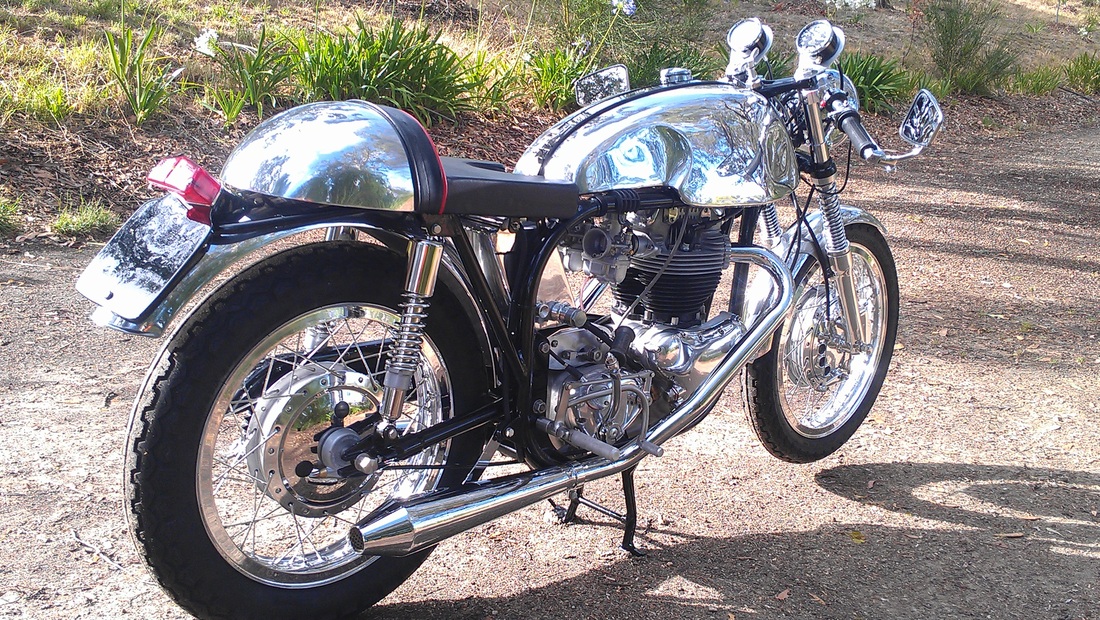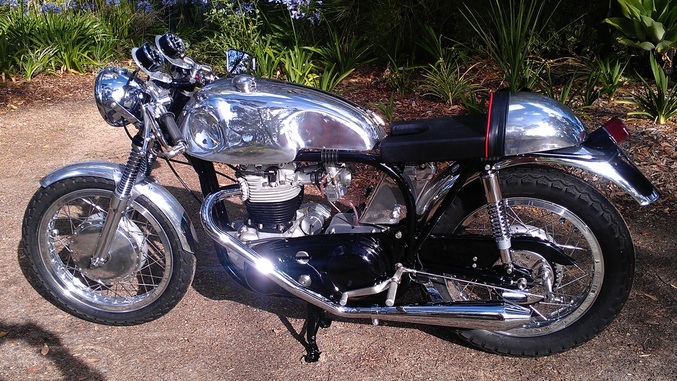 Andrew built this awesome Norton Dommie Café Racer with one of our polished WNA 3 P petrol tanks with an NRP 316 ST stainless tank strap and toggle assemblies along with our NRP 318 TS tank stops.





The seat is one of our NRP 118 WMA Monza battery/seat units, which was supplied with an NRP 001162 battery wiring loom and an NRP 001152 charge lead assembly. The Oil tank is an NRP 1005P Road Wideline type. All these items were supplied with their respective fitting kits for ease of fitting. Andrew used a number of other parts from us including the alloy mudguards and genuine Norton Spares to complete his build.
---
Slimline Triton from OZ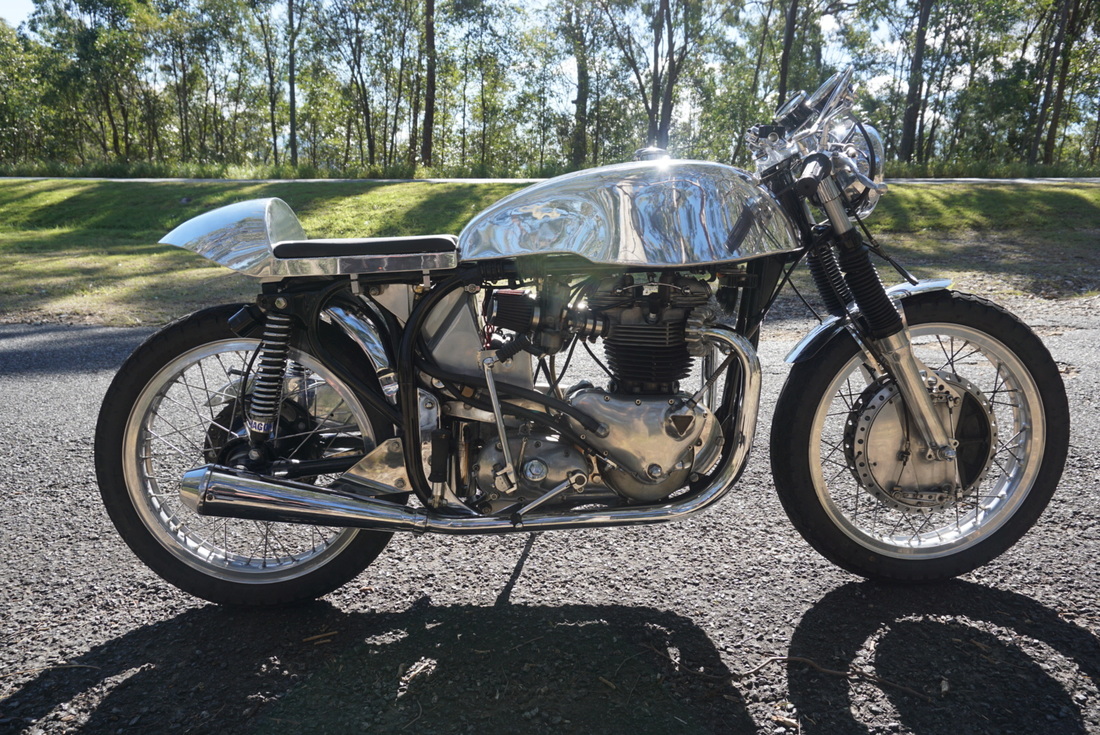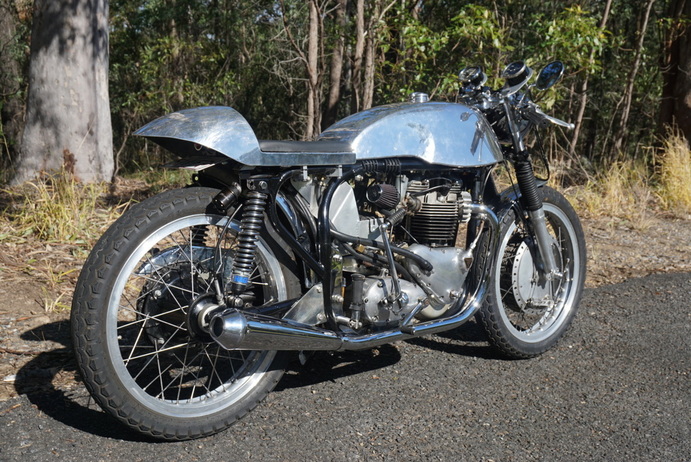 My customer from Brisbane Australia built this edgy, stripped down looking Triton using one of our polished SNA 3 P bolt on petrol tanks with a NRP 111 SMA Manx seat unit. The rear light and number plate have been mounted under the seat hump giving it a real race bike look - fabulous, uncluttered and lean.
---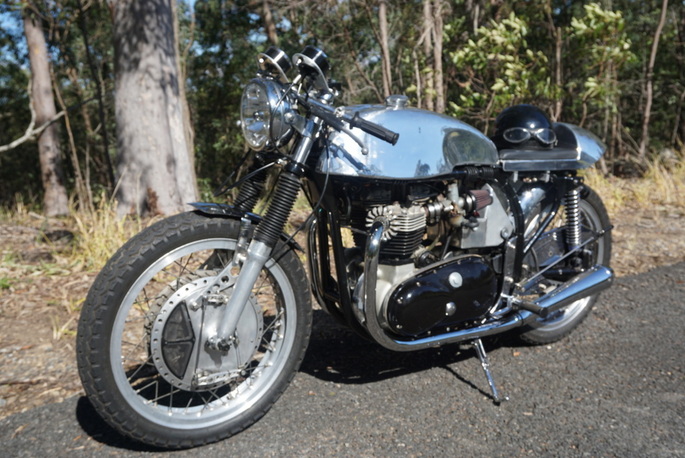 Hi Kevin,


I hope you like the look of the bike. As mentioned, I tried to keep it simple - including the upholstery which was done by a guy here in Brisbane. The rear including light and number plate might not be completely legal, however I didn't want the law to get in the way of the perfect lines of that beautiful seat & tank.
The parts fitted like a glove and were an absolute pleasure to work with - even though I had to mount the seat using a second set of clamps since the the bar which the brass clamps usually attach to had been removed.
Thanks again & best regards,


---
Simon's NORBSA From London
This is Simon's NorBsa from London. It was built using a 1956 Road Wideline frame with a BSA A10 twin engine. Simon used our WNA 3 P Gas Tank along with our NRP 318 MT Stainless Tank Strap & Toggle assembly and a set of NRP 318 TS Tank Stops to mount the fuel tank. He also used one of our NRP 1005 P Road Wideline Oil Tanks, NRP 0-0013R Oil Tank Fitting Kits, Oil Filter Bolt NRP 061159F, Banjo NRP 062207 & Sealing washers NRP 042065 to fit the oil tank hassle free. We also supplied other parts from the shelf to further help his build. A stunning authentic bike, nice job Simon.